I am currently all about
the Fuwa, the mascots for the 2008 Beijing Olympics
right now. I'm not even that into the Olympics anymore, I can never catch the events I want. It's not like when I was a little kid, and the Olympics were a huge deal that everyone watched on network TV. And honestly, I can't remember a single other Olympic mascot. But the Fuwa have changed everything! They're so awesome!
And they are absolutely adorable. But don't just take my word for it, look at how cute they are!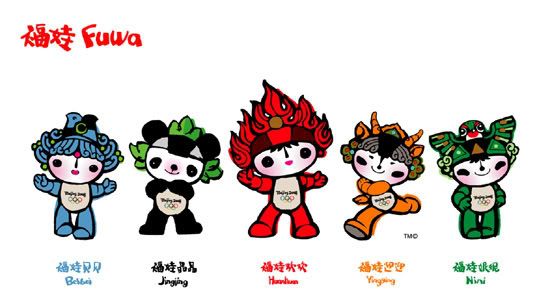 SO adorable.

jetbaby
and

atomicpanda
, you can also download desktop wallpapers featuring them
here
.
The other adorable thing rocking my world right now?
Lloromannic
(look out, there's music on that page), a Japan-only Sanrio creation. Goth demon blobs! Augh, so cute! And the keychains have light up eyes?! Must Own! Sanrio is always so quick on the trends, witness them cashing in on the gothic lolita craze!
Also, Sanrio Japan kicks all kinds of butt because they have
special Halloween exclusive items
(the Sanrio US site just goes on about Kimora Lee Simmons, pfft, who cares), AND the San-X site has special Halloween themed desktop wallpapers stuck in among their usual
downloads section
(just scroll around and look for the orange...).
Cute things make me so happy. ^_^